Gas emission purification in resin production – CJSC ST at the 'Resins 2020' conference
05.11.2020
Despite the epidemiological limitations, the annual conference of the magazine Chemistry and Business was also held this year – albeit in online format. The event focused on technologies that ensure environmental safety of woodworking industries and their chemical workshops. The conference theme: 'Modern approaches and proposals to ensure environmental chemical and sanitary safety of technological processes of the production of formaldehyde resins and secondary products'.
In the framework of the event a teleconference 'Russia – Belarus' was organized, during which specialists and managers of chipboards and chemical bonding substances manufacturers discussed technologies and industry prospects.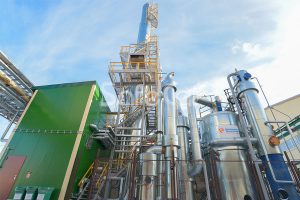 Arkady Smirnov, Head of Technical Innovation Department, delivered a report on catalytic plants SafeCAT produced by CJSC ST.  The equipment was developed jointly with the G.K. Boreskov Institute of Catalysis of the Siberian Branch of the Russian Academy of Sciences in the course of research and development ordered by the Russian Ministry of Education and Science. The purification technology is based on catalytic oxidation on a new type of catalyst with purification degree of not less than 99.8%. With the help of this low-selective catalyst it is possible to purify emissions from a wide range of organic compounds as well as from nitrogen oxides.
SafeCAT catalytic afterburner has been introduced into the production process of a number of chemical shops and is successfully operated, in particular, at the advanced Belarusian woodworking enterprise JSC Rechitsadrev.