Innovative model of plate heat exchanger patented
08.04.2020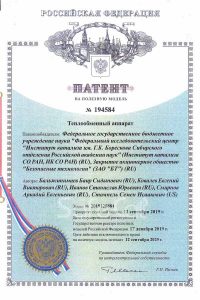 "Safe Technologies" company and G.K. Boreskov Institute of Catalysis SB RAS patented an innovative model of plate heat exchanger. The solution that distinguishes this equipment from the existing analogs is the ability to control the temperature mode of heat exchange.
In standard plate heat exchangers, the heat transfer process flows through a package of fluted plates that are tightly adjacent to each other. Inhomogeneous flow distribution reduces the efficiency of heat transfer and leads to subsequent plate deformation and equipment failure. Using thermocouples for control is quite expensive.
The patented heat exchanger has a special thermo paint, a kind of indicator of uneven heating zones. The paint changes its color under the influence of temperature. This method is much cheaper than buying additional devices and does not require a special design of the heat exchanger.
The heat exchanger was developed within the framework of R&D on creation of highly effective catalytic systems for industrial emissions treatment SafeCAT – a joint project of "ST" СJSC and the Institute of Catalysis.