Off-gas purification and methanol distillation unit: basic design completed
23.03.2021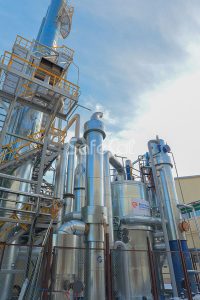 The works on the basic design of the off-gases treatment and methanol distillation unit, which is a part of the off–plant facilities system of the large methanol production complex with a capacity of 1.0 million tons per year (Skovorodino, Amur Region), have been successfully completed.
The source of exhaust gas generation is the main production facilities, namely sections of raw methanol tanks located in the tank farm, as well as tanks of the commodity park, tanks on the railway loading rack, methanol water tanks, etc.
The technological scheme of the unit includes several stages: purification of exhaust gases in a scrubber to the required concentration of methanol and further neutralization of the resulting gas-air mixture in a SafeCAT catalytic reactor. Methanol water coming out of production process of the purification system as well as effluents from methanol water tanks are returned to the distillation column for methanol distillation. Maximum load of thermocatalytic gas purification unit is 5696,8 nm3/h.
The catalyst which completes the flameless oxidation system is a unique development of "ST" CJSC, and according to project calculations its lifetime will be 5 years, after that it will be returned for regeneration or utilization.
All equipment is designed to function in the harsh climatic conditions typical of the winter period in the Amur region.